Frequently Asked Questions
How do I log miles in a virtual race?
Log your activity in your virtual race under the "Log Miles" tab (menu top left.) Unsure of how to find your virtual race? Check for the link in any of the virtual race emails you get from Racery. You can also download Racery's iPhone or Android apps for easy logging: iOS App or Android App.
Racery uses the honor system. Are you sure racers are being honest in logging their activity?
The honor system works! In our experience, devices like Fitbit sometimes, ironically, enable cheating in virtual races -- some people seem to think the device is lying, not them. If you've got to cheat in a race in which pride is the only prize, you're in a tough spot. If you think a racer is cheating, give them a nudge privately. But bear in mind that some people really do run or walk 10+ miles a day to stay healthy in mind and body!
How do I backdate an activity in a virtual race?
No biggie! To backdate, go to the LOG MILES or LOG ACTIVITIES tab for your virtual race, choose the relevant date, add your activity plus a comment or photo if you'd like, and hit "Submit." If you have multiple days to add, we recommend logging each day separately so that your motivational stats (for example streak or longest workout) stay correct! (Note: You can only backdate mileage back to the start date of the race. Also you cannot add miles in a race that is closed or ended.)
I'm in an event that accepts multiple activity types. Why does an hour of cycling add only 6 miles on the route, when I know I've gone 21 miles?
In our "activity conversion" races, all these conversions are hypothetical -- there's no real way to convert yoga or swimming or bowling to walking/running miles. So, to level the playing field for everyone, we're focused on trying to create conversions based on effort. In the activity conversion races, someone who swims hard for an hour goes as far on the route as someone who bikes hard for an hour. (We moved in this direction because non-cyclists got super distressed to see cyclists logging hundreds of miles and "hogging" the top of the leaderboard.) Note that we DO have races based on actual cycling miles and can turn this on for any given race if the race sponsor requests it.
This virtual race lets racers convert activity-minutes to miles. What's the math behind conversions like "20 minutes of dancing equals 1 mile of running?"
We've compiled various academic resources that convert activities into steps, and used them to convert activities into miles on our routes. Some race sponsors use custom conversion tables.
Why add hashtags when I log activities?
Adding a hashtag or two to your activity log (#AMrun or #rumba or #nopain) makes it easy for you to compare workouts notes with others AND lets you view all related logs in your personal activity log (racery.com/r/nickname).
What if I submit wrong data or need to edit/delete an activity log?
Your fingers slipped and you added 50 miles (or 500 minutes!) instead of 10?! It happens! You can delete any activity log by clicking the "v" icon that appears in the top right corner of all your logs in activity feeds everywhere on the site. After you click the "v" icon, you'll see the option to Share Link, Share on Facebook, or Delete activity. You'll be asked to confirm that you want to delete your activity, and, VOILA, your miles will be deleted.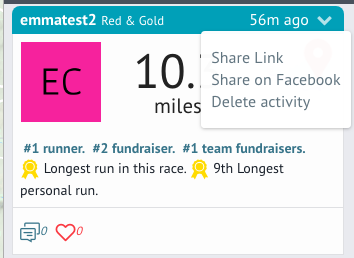 Can I log my mileage in bulk instead of submitting each day separately?
We suggest you avoid this. Bulk uploading ruins virtual race statistics, the race leaderboard, and your own "longest run" and streak achievements. You can use Racery however works best for you BUT, ideally, any backdated mileage should be attributed to the appropriate day using the Log Miles/Activity tab.
What's the deadline for logging exercise in a virtual race?
To be fair to all participants, we only count activities added before a virtual race officially ends. Races generally end at 23:59:59 EST on the race's end date, so don't wait until the next morning to log your 11pm final sprint! You can find the end date for your virtual race in the ABOUT tab for your race. Also, check your email -- we'll send out warning emails two days before the virtual race closes AND on the day that it closes so you'll know for sure when you need log that activity:)!
Can I add photos to my exercise log in the virtual race?
YES! Click the camera icon on the LOG tab and upload. Formats are jpeg, gif, png or bmp. Size is limited to 10 MB for pictures, so make sure to edit your photo before uploading.
I use a step tracker like Fitbit or iWatch. Am I allowed to log all my steps in this virtual race?
In general, to keep the playing field level and focus on boosting fitness, Racery suggests participants only log intentional exercise, ie periods when you go out of your way to add extra activities to your day. So we suggest participants not log all steps. But each Racery event has its own rules, so check your race's About section!
How can I sync my FitBit, Garmin or iWatch with this virtual race?
Because many people do not use a tracking gadget and different brands have different exercise sensitivities, Racery has decided not to synch with these devices. We DO have a 'steps' option in some races so racers can manually log intentional steps. (This feature is at the sponsor's discretion and is not available in all races!) Fringe benefits to this old skool approach: a) studies show that logging fitness activities manually boosts motivation and habit formation, b) logging via the site gives people an opportunity to view or comment on other people's activities and the virtual race's leaderboards.
What's the deal with 26.2 virtual stickers -- sometimes I don't get them?
The virtual stickers for covering 26.2 miles or 100 miles (or 1000 miles!) are awarded when you first cover each distance, whether in a race or later in your personal virtual personal tracking. After the first instance, each type of sticker is only generated when you take fewer days to cover the corresponding distance.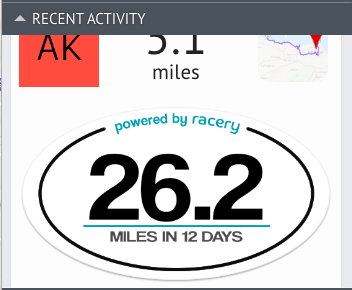 Can everyone in my family submit miles through my Racery account?
Yes, but all their miles will show up as your miles, which other racers may not think is fair! This is a good question to direct to your race's sponsor!
How can I create a Racery account and nickname?
You create your personal Racery account and nickname at the moment you sign up for your first virtual race. (Not before!) This will happen on a URL created by the company, charity or club that's sponsoring your event. You can later edit your nickname in your bio settings, assuming the new name you want is available!
How do I change the email address for my account?
Easy peasy! Head over to your Racery settings (found in the pulldown menu on the top right when you're logged in!), click it, and you'll see where to update your email! Once you've saved your new email address, we'll email you to confirm the update!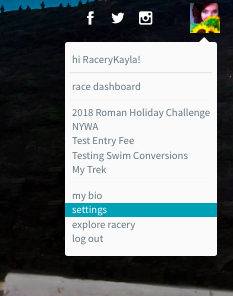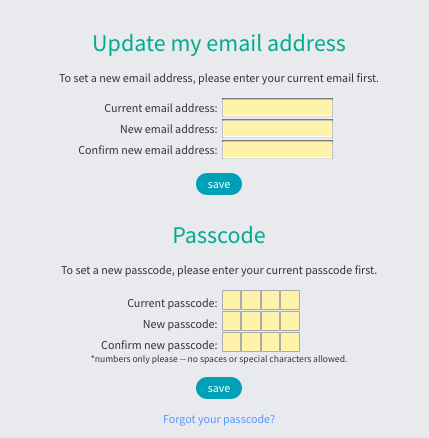 Can I login with a password rather than an email address validation?
Yes! New to Racery? Once you've signed up for Racery, you'll have a unique passcode in your very first device validation email. You can then use this passcode again and again to login INSTEAD of validating your device via email.
You can also personalize your passcode at any time. When you're logged in, return to the top right of the race page and select the Settings option from your avatar.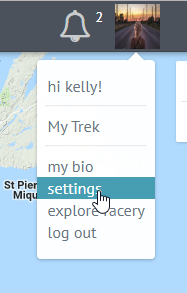 Once there, you'll see the Passcodes screen. If you don't know your passcode or can't remember it, select "Forgot Your Passcode?" to be sent a new one via email.

Next time you log in, you can check the box for your passcode instead of validating via email!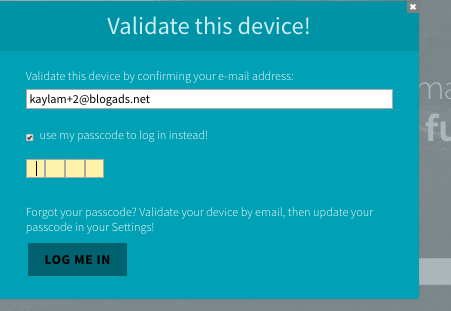 How can I opt out of Racery emails?
While some people get ultra-motivated by Racery's various healthy-nudge emails, you may not! Check out the bottom of any Racery email for opt-out options to make your life (and inbox!) less cluttered.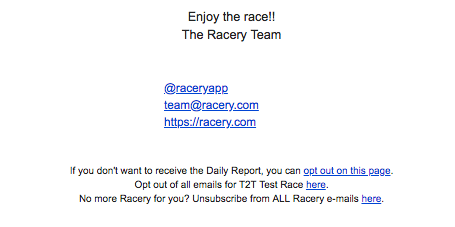 How do I create or join a group?
Racery's "groups" let racers collaborate informally with friends or colleagues. (For example, #doctors in a race can compete with #nurses, both for total miles and average miles per racer.) To join a group, go to the top of the Runners/Athletes tab on the race page. You'll see a list of existing groups. Click the group you'd like to join, then click the ADD ME TO THIS GROUP" button.
To create a new group, go to your Bio page -- click on your avatar on the top right of the race page -- and select "my bio" from the list. Go to Edit My Bio and add your group(s).
Once the race begins, groups with more than 2 racers will appear on the main Group List!
How do I change my bio, profile pic and/or nickname?
There are 2 ways to edit your bio.
1. On Racery.com, click on your avatar in the upper right corner. Select "my bio" in the dropdown list. (Not seeing your avatar picture? Make sure to log in by clicking on the gray square.) Once on your bio, click "Edit My Bio." You'll be able to update your avatar, full name, nickname, and bio. The max picture size is 10 MB.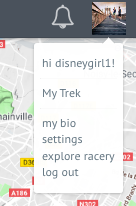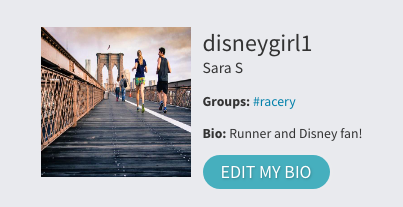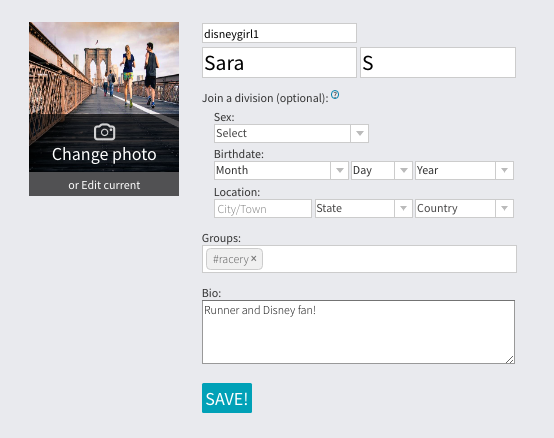 2.Click on your name in the athletes tab in your virtual race and you'll see a blue link for "Full Bio." It will take you to your bio page --- the same one as above!
How do I delete my Racery account?
Head to your "settings" when logged in and select "Delete my racery account":


I love the email that comes every day at 4.30pm EST to remind me to exercise. Recently it's stopped showing up in my inbox. What gives?
We're sorry! If you don't open an email type for seven days, we automatically opt you out of that SPECIFIC email type and send an email asking whether you'd like to continue getting that email. If you say YES, we'll start sending that email type again! If you'd like to reinstate that email, then you can search for that email (subject line: "We've unsubscribed you ") and hit YES! We love this email too. Research shows that nudges like this are very motivational for some athletes.
Can I setup a virtual race or challenge for my company, club or charity?
YES please! Many of our best races start because someone participates in a virtual race and then lobbies their HR department or development director to start a Racery virtual challenge. We've got a ton of corporate features including extra branding, robust reports, consulting and custom emails. Direct them to our list of featured virtual races for companies, virtual challenges for charities, or virtual races for clubs. Or you can create a free test virtual race and invite them to join you!
Can I use a virtual race or challenge for marketing?
p>There are lots of ways that Racery can help with marketing. Non-profits have used Racery to collaboratively cover thousands of virtual miles visiting related clinics. Local food co-ops have used custom Racery routes to share stories with their customers about local florists, grass-fed cows and breweries. So, that's what we mean when we say "use Racery to make your story bigger!" Reach out and tell us what you're looking to achieve. We love a challenge and a chance to be included in YOUR story.
Can a race accept different exercises other than just walking and running miles?
We get this question a lot! It depends on the virtual race. Some corporate or charity sponsors of virtual races request that participants only log miles that people have run. Others allow walking too. Many encourage ALL fitness activities, offering racer's Racery's minutes-to-miles activity converter.
Can I join a virtual race after it's already started?
Unless the race sponsor says otherwise, ABSOLUTELY! On the virtual race page, open the the ABOUT section and select the JOIN NOW! Button. Confirm your device and BOOM, you're racing!
Have exercise from days earlier in the race to backdate? Check out this answer!
How do I invite others to join a virtual race?
Racing is much more fun when you know people! Inviting other racers is as simple as sharing the virtual race's link — through email, Twitter, Facebook, Post-It-Notes — however you'd like!
We love race ambassadors! You can also use the personal referral link on the race page once you've signed up! The race organizer will be able to count the racers you've recruited. Find it in the About tab!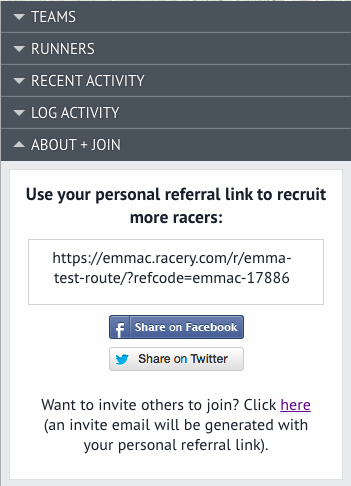 How do I get a tax deduction for the charity that sponsored this virtual race?
Please see the bottom of the race's About section or write the charity directly.
Can I be in more than one virtual race at a time?
Yes!!! You'll need to log relevant miles in both races though!
For virtual charity races, how much does Racery charge for donations?
We figure charities should keep what's donated, so Racery keeps 0% of funds raised! (Some competitors charge as much as 80%. Crazy, right?) The secure payment processor we use,Stripe, charges 2.9% for all credit card fees and .30 cents for each donation transaction. Racery pays its bills by charging for participation in the race itself.
My child wants to race too. Can minors participate in virtual races?
Yes! Minors can participate in races provided that they have their parent's permission and their own individual email address. (Every racer needs a separate email address.) A unique email and nickname is required for each racer so that Racery may identify them and log their activities in unique accounts.
I've forgotten the URL for my virtual race.
Oh shoot -- it happens!! To find your race's URL, log in to your Racery account by clicking on the your avatar (top right.) There, you'll see a list of the races that you're currently in. You can also check the Welcome Email you received when your registered for the event.
Race bibs for my virtual race: I think I was supposed to get one. Can you help?
Sure! Not all Racery virtual races include digital bibs, so it's best to check in the Welcome Email - you got when registering for the race. Don't see that email? Search "Your bib and next steps" in your email folder. If your race has a bib, it will be in there!
If you're still not finding the email, it may have landed in your Spam folder, or you could be using a corporate email address (firewalls can be tricky!). Shoot us an email at team@racery.com and we'll help get to the bottom of it.
Is there a list of virtual races I can pick from?
Racery itself doesn't sponsor races, we power races for companies, charities and clubs. Most of those races are only for members of those groups. If you want to host a small race for a group of friends or family, one of our club virtual races is probably your best bet. We've also got some very affordable non-corporate options!
My company's virtual race starts in six weeks. Will you remind me?
Yes! You'll get an email two days before the race begins. Keep your eye out for a subject line "Just two days until the start of 'your race name'!!
What is my "Personal Tracking" and how did I end up going from Florida to Alaska?
Think of this as a personal virtual race. Any miles you accumulate in running/walking or exercising races will count towards your personal trek. (Miles from races specific to swimming or cycling don't count there.) And when you're not in an active race with us, you can log directly to your Personal Tracking route to keep your streaks alive. (For free!) Some athletes have accumulated more than 5,000 miles with us. If you ARE in an active race, you'll only be able to log your miles in that race.
How can I log miles in my "Personal Tracking"?
If you're in an active virtual race, you won't need to log miles directly in "Personal Tracking" because logging miles in your current race (assuming it isn't explicitly a cycling or swimming or stairs race) will count toward your trek. If you're not in a current race, you can access your Personal Tracking page from your avatar dropdown on Racery.com log your miles there to keep your Racery streak alive and watch yourself progress across the U.S.!!
Where can I find "Personal Tracking"?
When logged into any Racery page, click on your avatar picture in the upper right corner. Select "personal tracking" in the dropdown list. You can also plug your nickname into this URL https://racery.com/yournickname/personal-tracking/ (change "yournickname" to your actual nickname)
I'm having technical difficulties, what should I do?
Let's get to the bottom of it! :) Are you having issues receiving emails? Check this answer! Can't figure out how to log miles in your race? Check this answer! Having another random issue? Email team@racery.com and we'll help!
I signed up for this virtual race and I'm getting Racery emails. But every time I try to validate my device to log in, the popout form says I'm not registered. WHY is this happening??!?!?!
It's possible that you are inputting a different email address than the address you originally registered with. If you don't think that's the case, contact team@racery.com and we'll get to the bottom of it!!!
Not receiving Racery's emails?
Before emailing us, first, please make sure to check your spam folder and other folders -- and make sure you're checking the right email account. Every once in a while our emails end up there. Also, some corporate and university email servers block messages coming from sites they don't know -- this sometimes includes Racery!
**Please contact us if you signed up with a corporate account and you'd like to switch your Racery email address to your private email address.
Why do I have to validate my device every time I want to log exercise
This won't happen if you accept cookies. But if you do not want to use cookies, you can use the validation code we sent you when you first created your account. (Or login via email validation and create a new passcode in your Settings!!)
Why did you build Racery?
Two team members — one from our Durham, North Carolina office and the other from our Budapest, Hungary office — cooked up Racery to let coworkers to race with each other back in 2014. The idea just won't stop growing!
What credit card processors does Racery use?
We use Stripe, which processes credit cards for companies like Target and Uber. We like Stripe's low fees and flexibility. It's simpler than Paypal both for racers and sponsors. Thanks to Stripe, Racery never stores or accesses any of your credit card information!
I got injured three days into the virtual race and would like a refund. What is the policy on refunds and how do I request one?
Refunds are permitted within 2 business days of the race's start date. All other refunds are considered on a case by case basis. If you'd like to request a refund, please email team@racery.com. If you're a racer who has not entered miles, we'll be happy to refund your money!
How long does it take for a refund to show up in my account?
Depending on your bank, it make take up to 5-10 business days for your refund to show up.
I paid with my credit card, then learned a colleague used a free coupon for our virtual race. Can I get a refund?
If you work at a company or charity that has purchased free coupons for staff or stakeholders, yes! Please write team@racery.com.